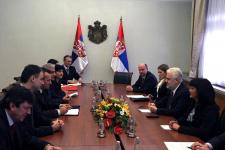 Macedonia's Parliament Speaker TrajkoVeljanoski visited Belgrade on Tuesday, the first official visit by a Macedonian official to Serbia since Skopje's decision in October 2008 to recognise Kosovo's independence cast a shadow over bilateral relations between the two countries.
After meeting Serbian Prime Minister Mirko Cvetkovic, Veljanovsko said the visit as a "significant step in restoring the spirit of good neighborly and friendly bilateral relations," Macedonia's state news agency MIA reported from Belgrade.
Serbia's prime minister stressed that Macedonia's decision to recognise Kosovo's independence was the only reason for the recent cooling of otherwise "excellent bilateral relations".
The two officials talked about the current global economic crisis that threatens both countries and discussed measures to deal with its consequences.
Five month ago, Serbia expelled both Macedonia's and Montenegro's ambassadors to Belgrade as a response to their synchronized recognition of Kosovo. Macedonia, where one quarter of population is ethnic Albanians and has close ties with Kosovo, kept insisting that its move is not directed against Belgrade.
Since then the political relations have ground to a relative stand still but economic relations between the two countries have continued. Serbia is one of Macedonia's most significant economic partners.
Veljanoski is also scheduled to meet his Serbian counterpart Slavica Djukic-Dejanovic.