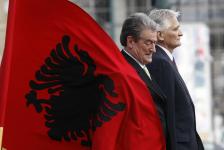 Albania and Bosnia and Herzegovina have agreed to improve economic and diplomatic relations and work jointly towards their faster membership in the European Union and NATO.
The agreement to improve relations between the two countries came during the official visit of Albanian Premier Sali Berisha to the Bosnian capital of Sarajevo on Tuesday. During the visit Berisha met the chairman of Bosnia's Council of Ministers Nikola Spiric.
The two premiers also signed four bilateral agreements – on police cooperation, readmission of illegal immigrants, customs and travel between the two countries.
After the meeting, the two premiers told journalists that the focus of the attention of both countries in the near future will be improving economic cooperation as well as joint efforts and initiatives aimed at speedier admission of both countries to the EU and NATO.
Berisha and Spiric also said that the two countries will also establish cooperation on the level of embassies in the nearest possible future.