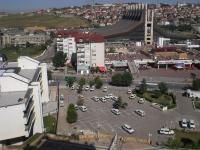 Police representatives from around the region were invited to Pristina's Grand Hotel on Monday, at a conference against organised crime and trafficking held by Kosovo's Ministry of Internal Affairs.
Officials from Turkey, Hungary, Bulgaria, Greece, Slovenia, Croatia, Montenegro, Albania and Macedonia attended, while invited representatives from Serbia and Bosnia and Herzegovina opted to miss the event, which Kosovo's Prime Minister Hashim Thaci highlighted.
"The war against contraband, corruption, negative occurrences, the informal economy or terrorism is also a part of countries that have not recognised Kosovo's independence, also Bosnia's and Serbia's, which are in the process of becoming aware of Kosovo's recognition as a state," he said in his opening speech at the conference.
Nevertheless, Thaci states that Kosovo will still cooperate with countries that have not recognised its independence, stating that "Kosovo always generated excessive security, peace, stability, regional cooperation and Euro-Atlantic spirit."
The conference will continue Tuesday, with speeches from visiting representatives of the region.