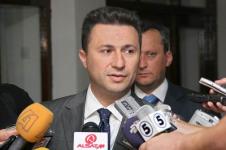 As a new bid for state bonds is launched on Tuesday, Prime Minister Nikola Gruevski argues that they are not being issued to cover a budget crisis.
The rumours that the state budget is so empty that there is no money for the wages for the state administration and for pensions are not true, PM Gruevski said.
"We have no problem at all with the budget deficit," Gruevski told local media Monday. He argued that the state bonds are a regular thing for managing the ongoing money flow and that the wages and the pensions are not in question.
Gruevski was referring to reports that appeared in several media as speculation climbed in the heat of the presidential and local election. The worries rose last month when the government started issuing state bonds to fill the ongoing gap.
The government is hoping to bring about €45 million into the budget in Tuesday's bid and is one in several already done. The state sells state bonds every week and offers a monthly interest rate of over 8 percent.
Some experts argue that the interest rate is too high and that this is just going to indebt the country even more at a time when there is a decrease in the budget income from taxes due to the world financial crisis.
Additionally they warn that this step may cause competition to the commercial banks that will have to raise their own interest rates just to stay in competition.
Macedonia's 2009 budget is record-breaking by its span of around €2.5 billion and by its capital investment side that stands at €500 million.
The government claims that by stimulating capital investment it will keep domestic companies going in times of decreased interest for their works abroad.