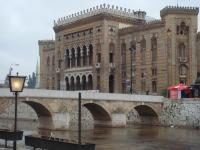 Two moderately-strong earthquakes, just over 12 hours apart, have shaken Sarajevo, the capital of Bosnia and Herzegovina. The tremors caused widespread alarm but did little damage.
The first tremor, at 15.27 on Monday, registered at 3.3 on the Richter scale and 5 on the Mercalli scale. The epicentre was some 8 kilometers east of Sarajevo.
The second, stronger, quake, at 3.46 on Tuesday, was centred 16 kilometers north of Sarajevo, Bosnia's Seismological Institute reported. 
At its epicentre the second earthquake registered 3.8 on the Richter scale and 6 on the Mercalli scale. It caused minor damage to several buildings and major disruption to the power grid across the city. No injuries have been reported so far.
The biggest earthquake in Bosnia and Herzegovina'shistory took place in 26 and 27 of October 1969 in the northwestern town of Banja Luka. A total of 15 people were killed and around a thousand injured, while a major part of Banja Luka and its surroundings was destroyed or seriously damaged. That tremor measured 5.4 on the Richter scale and between 7 and 8 on the Mercalli scale.