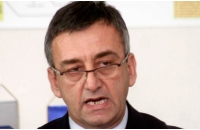 AutHor: Mirza Čubro
Granična policija BiH nije imala obavezu da evidentira ulazak Branimira Glavaša u Bosnu i Hercegovinu, tvrdi Vinko Dumančić, direktor Granične policije.
Kaže da zbog ovog razloga ni ne znaju kada je i na kojem prelazu u našu zemlju ušao Glavaš, zastupnik Sabora Hrvatske, nakon što je u petak u Zagrebu osuđen na 10 godina zatvora zbog ratnog zločina.
NN: Zašto Granična policija BiH nije evidentirala ulazak Branimira Glavaša u BiH?
DUMANČIĆ: Evidentiramo samo ulaske osoba iz migracijski visokorizičnih zemalja. Poznato je da građani BiH i Hrvatske u jednu odnosno drugu zemlju ulaze samo uz posjedovanje osobne iskaznice. Branimir Glavaš je, prema informacijama koje smo saznali iz medija, ušao na isti način. Nismo imali obavezu da evidentiramo njegov ulazak pa nismo ni provjeravali kada je i gdje ušao u BiH. Sabor Hrvatske Branimiru Glavašu nije ukinuo imunitet, za njim nije raspisana potjernica, stoga nismo imali niti jedan drugi razlog zbog kojeg bismo obraćali posebnu pozornost na njegov ulazak u zemlju.
NN: Ulazak Branimira Glavaša u BiH nije jedini primjer ulaska osuđenika u BiH o kojem Granična policija nije imala informacije. Nedavno je i Ante Jelavić ušao pa izašao iz BiH, a vi niste ništa znali o tome?
DUMANČIĆ: Nismo ni od jedne relevantne sigurnosne agencije iz BiH i Hrvatske dobili informacije gdje je i kako Jelavić ušao u BiH. Ako se u istrazi koja se vodi o njegovoj otmici dođe do saznanja kako je ušao u BiH, Granična policija BiH će odmah otvoriti internu istragu kako bi bilo utvrđeno da li je došlo do propusta u radu naših službenika. Ne mogu narediti otvaranje istrage na osnovu medijskih napisa.
NN: Je li Ante Jelavić mogao ući, odnosno izaći iz BiH preko nekog ilegalnog graničnog prijelaza?
DUMANČIĆ: Mislim da to nije bilo moguće jer smo zapriječili svih 66 ilegalnih graničnih prijelaza. Ilegalni granični prijelazi ranije su zaista bili problem, ali smo njihovim zaprječivanjem uradili veliki posao. To je jako dobro za sigurnost naših granica.
NN: Istraga policija BiH i Hrvatske je pokazala da je Jelavić, nakon što je otet u Zagrebu, bio u BiH. Kako je mogao ući i izaći iz zemlje?
DUMANČIĆ: Granica između BiH i Hrvatske je duga 1.551 kilometar i na mnogim mjestima moguće ju je pješke preći. Naša granica je fleksibilna i zaštita granica se temelji na principu saradnje sa susjedima. Imali smo niz akcija presijecanja lanaca trgovine ljudima, narkoticima, koje su bile veoma uspješne. Najbolja potvrda uspješnosti tih akcija i ovog principa zaštite jesu podaci nedavno izneseni na konferenciji šefova graničnih policija održanom u Italiji, gdje je rečeno da organizirani kriminal pokušava pronaći nove rute koje ne idu preko BiH. To je dokaz da imamo uspješnu politiku zaštite granice, koja osigurava zaustavljanje ilegalnih tokova.
NN: Hoće li zbog najavljenog smanjenja budžetskih prihoda biti zaustavljena gradnja graničnih prijelaza?
DUMANČIĆ: Nadam se da neće. Evropska komisija osigurala je sredstava za izgradnju određenih prijelaza i to će biti realizirano. Pitanje graničnih prijelaza je veoma važno ali ne mogu odgovoriti na sve detalje jer je to nadležnost Radne skupine za integrisano upravljanje granicama. U svakom slučaju, pozdravljam izgradnju novih graničnih prijelaza jer se time stvaraju bolji uslovi za rad Granične policije.
NN: Hoće li rad Granične policije BiH biti otežan zbog planiranih ušteda za plaće i naknade?
DUMANČIĆ: Morat ćemo se uklopiti u budžet koji je realan i ostvariv. Znamo da su planirane uštede na plaćama i naknadama ali se nadamo da se to neće odnositi na policajce. Imamo problem s nedostatkom kadrova, a i sva prava uposlenika nisu ispoštovana. Primjerice, pitanje naknada za prijevoz još nisu rješena, a naši ljudi ponekad putuju skoro s jednog na drugi kraj zemlje kako bi došli na svoje radno mjesto. Očigledno je da slijedi period štednje, ali se nadamo da ćemo pronaći način da se to ne odrazi na rad Granične policije.