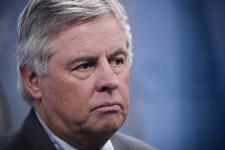 Pieter Feith, the EU's Special Envoy to Kosovo, says neither Belgrade nor Pristina will be able to realise their EU dreams unless they mend relations.
"I'm not saying that Belgrade needs to recognise Kosovo's independence, but there has to exist at least minimal cooperation between the two sides on issues like customs and trade, and there's also a need to carry out a census in both Serbia and Kosovo," said Feith.
"I'm not adding any new conditions for EU entry. For Serbia, there is one condition, one that it's aware of itself, and that's cooperation with the Hague court. However, establishing regional cooperation is an element that should help countries wishing to join the EU," the envoy added, as reported in media.
He underlined several times that "unless at least minimal cooperation is achieved—and Pristina needs to do more there too—the Euro-integration process of the whole region will be much slower and more complicated."
He said preventing a de-facto partition of Kosov is the most daunting task for both governments, and for himself as he is the official responsible for assisting Kosovo's independence.