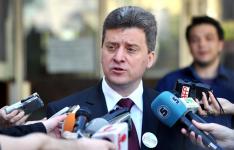 Questioned by journalists, Macedonia's President Georgi Ivanov failed to clarify if Kosovo's President Fatmir Sejdiu was invited to his inauguration ceremony held on Tuesday.
"The ceremony was organised by the president of Assembly of the Republic of Macedonia, which means that all invitations were sent by him," Ivanov said in Brussels.
The issue of whether Sejdiu was invited or not has caused a stir, ever since Macedonian and Kosovo media reported that Sejdiu would not attend the ceremony, and the Kosovar president himself said he was not invited.
Skopje has tried to mend relations by saying that Sejdiu will be the first president that Ivanov will officially meet, but has failed to tell journalists whether Sajdiu was invited or not. Some media report that he was invited, but was advised by Macedonian authorities "through other channels" not to come as his presence may anger Serbia's president Tadic.
Other media said Sejdiu decided not to come because he did not want to attend alongside Tadic.
The issue has threatened to sour relations between Albanians in the region and Macedonians. Ethnic Albanians within Macedonia have expressed their anger at Ivanov, and an opposition Albanian party refused to attend the inauguration in protest.