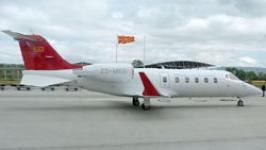 All the computers and the radar of the state plane carrying Premier Nikola Gruevski from Brussels to Paris failed Thursday. The plane landed back safely in Brussels.
Gruevski and his delegation are now trying to find an alternate way of getting in to Paris to meet French President Nicolas Sarkozy, the prime minister's cabinet confirmed to local MIA news agency.
The failure happened at 6000 meters off the ground. During the forced return the pilots had no idea about their altitude and about the surrounding traffic.
Gruevski is visiting Paris to lobby for France's support in the EU visa liberalisation process, the beginning of EU accession talks for his country, as well as the unblocking of the country's stalled NATO integration process, after Greece vetoed the country's sure entry into the military alliance last year.
France is considered as one of Europe's most skeptical countries regarding the fall of the visa wall for Western Balkans countries and the further enlargement of the Union.
It is also seen as closer to Greece when it comes to the unresolved Athens-Skopje "name" row which hampers Macedonia's NATO entry.