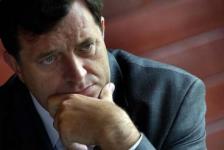 Tough talking Bosnian Serb leader, Milorad Dodik, infamous for his radical rhetoric, appeared to have softened his positions somewhat during a meeting Sunday with Bosnia's top international envoy, Valentin Inzko.
Displaying a rarely affable mood, Dodik pledged cooperation from the government and parliament of the Serb-dominated Bosnian entity of Republika Srpska, for speeding up reforms required for obtaining visa-free travel to the EU, local media reported on Monday.
The meeting between Dodik and Inzko took place in Banja Luka on Sunday, amidst growing tensions between Republika Srpska's administration and other local and international officials in Bosnia.
Over the past month, Dodik has issued repeated warnings to the new American administration to stay away from the region.
Only last week, Dodik called upon Bosnian Serb soldiers serving in Bosnia's joint armed forces to boycott invitation to the ongoing NATO exercise in Georgia, while at the same time Republika Srpska's Assembly adopted a set of conclusions, demanding High Representative Inzko stop using his governing powers and reverse all previous decisions.
Local and international sources told the Balkan Insight on Monday they were not surprised with Dodik's subdued mode, in light of the upcoming visit of the US Vice President Joseph Biden to Bosnia, Kosovo and Serbia between May 17 and 21.
The visit is seen as proof that the new US administration is preparing to reengage in the Balkans, while Biden – who is highly familiar with Balkan politics – is expected to deliver tough messages to Dodik and other local politicians whose break-away rhetoric are seen as biggest threats to regional security.
Yet Sunday's meeting between Dodik and Inzko, at least according to joint statements, appeared to have passed in more of a constructive atmosphere.
When asked by journalists, Inzko said he didn't believe that America will appoint a new US envoy for the Balkans, but added that even if it does, he will work closely with him or her.
In addition to speeding up EU-accession reforms, the two officials also agreed to speed up the implementation of measures that are conditions for closure of the Office of the High Representative. Dodik and his government have been pushing for the closure of the OHR for more than a year.
Inzko later on Sunday participated at a round table in Sarajevo, where he chose to draw attention to another set of issues: "Every day I see plastic bottles thrown into the Miljacka river (in Sarajevo) and other rivers in Bosnia and Herzegovina. Neither the Dayton agreement nor the Republika Srpska Premier Milorad Dodik is to be blamed for that. Bottles are in the rivers because people do not clean up in front of their own door, but seek the problem with somebody else," Inzko said at the meeting of a Sarajevo-based think-tank Circle 99.