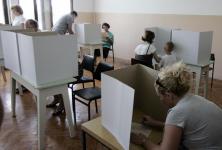 Croatia's ruling Croatian Democratic Union, HDZ, and its partner won the majority of seats in 14 county assemblies, incomplete preliminary results of local elections show.
The State Election Commission said the Democratic Party, SDP won a majority of seats in five of the assemblies, and the Istrian Democratic Party one county assembly, according to the Hina newsagency. 
Jadranka Kosor, HDZ deputy president, said that although the results are still incomplete, it is clear that her party is the winner. "Everything proceeded as planned," she said.
She played down the significance of the news that initial early results showed that the opposition SDP lead the polls for the mayoral position in Zagreb. The results show Milan Bandic with 49 per cent of the vote.
Prime Minister Ivo Sanader's HDZ, also seemed to have lost Split, Croatia's second-largest city, where and independent candidate, businessman Zeljko Kerum, was in the lead.
The elections are seen as an indication of where the current HDZ-led government stand in public opinions.
Opinion polls show that the state of the economy was foremost in voters' minds.
About 4 million voters were selecting mayors, governors and local governments in 22 counties, 126 cities and 429 municipalities.