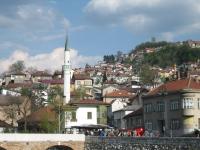 Bosnian Ministry of Security has asked Interpol to call off international arrest warrants reportedly issued by Serbia against a number of former Bosnian leaders who Belgrade accuses of being involved in an attack on Yugoslav Army soldiers in 1992.
Serbian authorities opened up an investigation into the so-called "Dobrovoljacka street" case last year, referring to an incident which took place in May 1992 in Sarajevo, where at least a dozen Yugoslav National Army, JNA, soldiers were killed when Bosnian territorial defense attacked a JNA convoy that was trying to leave the city.
In early March Serbia issued arrest warrants against a group of 19 Bosnian leaders who were in top political and military functions in 1992.
Despite an ongoing protest from Bosnian officials, Serbia last week reportedly moved on with passing the international arrest warrant to Interpol and its 197 member countries.
Upon hearing this, the Bosnian Ministry of Security on Sunday ordered the Bosnian bureau for cooperation with Interpol, to immediately request the cancellation of the international arrest warrant on the grounds that it is politically motivated, Bosnian media reported on Monday.
The ministry also said that responsibility for investigating and eventually processing this case rests with Bosnia and Herzegovina, since the incident took place in Sarajevo, and all listed suspects are Bosnian citizens.
The Ministry also complained that Serbia is attempting to illegally process people for war crimes. It said Bosnia has repeatedly offered Serbia to take over the process and asked for all related documentation, but so far got no response.
"With this move, Serbia is seriously jeopardizing relations between the two countries," the Ministry said in its press statement on Sunday. It added that Serbia "generated all conflicts on the territories of former Yugoslavia, (and) is now trying to blame others for all crimes that were committed."
The group of indicted officials includes most of Bosnia's political and military leaders from that time, including seven Bosniak (Bosnian Muslim), Croat and Serb members of Bosnia's presidency.
Sarajevo media, quoting sources close to the Serbian government, have reported that Serbia is also preparing additional indictments against other Bosnian officials, including the current Bosniak member of Bosnia's tripartite presidency, Haris Silajdzic.