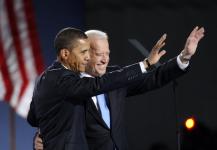 US Vice President Joe Biden's visit to Kosovo, Bosnia and Serbia next week is awaited with mixed emotions, much anticipation and some high hopes.
The visit is seen as proof that President Barack Obama's administration is ready to take a more active role in the Balkans in order to strengthen the region's fragile stability. 
Serbs point out that he is the most senior US official to visit the country in nearly thirty years, after President Jimmy Carter visited the then Yugoslavia in June 1980.
Bosnians note that not since former President Bill Clinton visited the country in 1996 has such a US politician of such high stature come to their country.
Kosovars say he is the highest ranking politician to visit their country since it declared independence in February, last year, seeing his visit as proof of the US's commitment to their country's development.
Biden begins his visit to the region on Monday, starting in Kosovo, after which he will go onto Bosnia and end his three-day trip in Belgrade on Wednesday.
Commenting on his visit, Kosovo's President Fatmir Sejdiu said it "shows profound American dedication towards supporting Kosovo, supporting democracy, and good development in all the countries of the region".
"I very well know that from the beginning, the USA was and will continue to be an important investor of peace and stability, and peace and stability indicate respect for human freedom,'' he added.
In Bosnia, Biden's visit has been received with mixed emotions, with the country's Bosniak (Bosnian Muslim) and Croat leaders mainly supporting the visit, but with Bosnia's Serbs generally rather scornful.
For days now media have run commentaries saying that the visit is yet another sign that the new US administration is turning its attention back to the region. They note that Biden's visit comes on top of a series of high-level conferences and other events which over the past month showing increasing US interest.
They add that the US Congress has called for the appointment of a new US special envoy for the Balkans.
In Belgrade, many hail Biden's visit as a good opportunity to patch up relations with Washington after years of mutual suspicions.
Zivorad Kovacevic, president of the European Movement in Serbia, thinks Biden is bringing a message of cooperation to both Serbia's and Kosovo's governments.
His visit will aim "to encourage Belgrade to tone down the rhetoric regarding Kosovo, and Pristina too. Also to do more to protect Serbs and to discourage both sides from seeking solutions through inciting conflict," Kovačević said to B92.
The US ambassador in Belgrade said this visit demonstrates the importance of the region's stability to the new administration.
"Vice President Biden will be meeting with Serbian President Boris Tadic. The goal of the talks is to revive bilateral relations between the two countries,'' said a US embassy spokeswoman.
'As has already been stated, we agree to disagree over Kosovo, but there are many other fields that we should talk about and intensively work on in the coming period," she added.
But not all are exited about Biden's visit. Bosnian Serb leaders have been repeatedly warned the US to stay away and let local leaders find their own solutions to problems.
In a move that appeared to be orchestrated in reaction to this week's US Congress Resolution, and a direct challenge ahead of Biden's visit, Republika Srpska's Assembly on Thursday adopted a set of conclusions demanding that Bosnia's High Representative stop using his powers, and reverse all previous decisions made.
In Serbia, the Serbian Radical Party remind voters that Biden supported NATO's bombing of Serbia in 1999 and its subsequent 'occupation' of its territory – referring to Kosovo.
They say at that time he called Serbs a bunch of 'illiterate rapists and baby killers'.
Biden was a lobbyist for Kosovo'a independence and encouraged American military intervention during the wars in the former Yugoslavia.