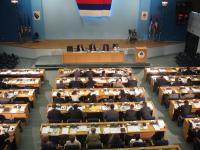 Bosnia's new top international envoy, High Representative Valentin Inzko, faces his biggest challenge so far as Bosnian Serb leaders grouped together to demand he stop using his governing powers.
The challenge was issued at a session of the Assembly of the Serb-dominated Bosnian entity of Republika Srpska, which on Thursday afternoon adopted a set of highly disputed conclusions, including a demand that Inzko cease to use his so-called Bonn Powers that allow the High Representative to impose laws and remove recalcitrant politicians. 
Referring to his powers as an "undemocratic and outdated method of governing of Bosnia and Herzegovina", the conclusions also insist the High Representative undo all previous impositions and reinstate scores of local politicians who were sacked by High Representatives in the past.
Observers say the move represents a further radicalisation of the Bosnian Serb positions, and an orchestrated tit-for-tat in response to a Resolution passed by the US Congress on Wednesday that calls for continued constitutional reform.
They also said it represents a direct challenge to the newly appointed High Representative, as well as the apparent renewed US resolve to reengage in the country.
Both the ruling and opposition Bosnian Serb parties supported the conclusions.
"When one can talk about all of Constitution, then why should we not talk about transfers of (constitutional) competencies," said the Speaker of the Republika Srpska Assembly, Igor Radojicic.
The conclusions said the Assembly will reexamine all 65 competencies which according to them have been moved from entity to state level over the past 15 years without the Assembly's consent but through the usage of High Representatives' governing powers.
They also pledged to launch legal procedures before local and international courts with the aim of returning them back to entity levels.
Bosniak (Bosnian Muslim) and Croat leaders mostly ignored the move, while the international community in the country was quick to downplay and condemn it.
"(The) conclusions of the Respublika Srpska Assembly are not serious," said the Office of the High Representative, OHR, in statement.
"Republika Srpska's Assembly must operate within the Constitution of Bosnia and Herzegovina and refrain from undermining competencies that belong to the state," said the statement, stressing that Inzko had all rights to use his powers in order to fulfill his mandate.
The OHR also stressed that Bosnian Serb officials have already several times feinted attempts to regain some of the competencies which entities had in the past, but added that those changes are already a part of the constitution and can be changed only through parliamentary procedure, with the majority of all three main ethnic groups accepting them.
Yet some western diplomats, speaking on conditions of anonymity, expressed concerns that these aggressive tactics – combined with the weakened international military and political presence in Bosnia – have worked well in the past couple of years, and have undermined the OHR's authority.