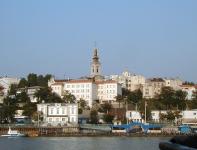 Security in the Serbian capital will be at its highest possible level for the visit of US Vice President Joe Biden, said Interior Minister Ivica Dacic Thursday.
"Everyone knows fine well how security operates when there are security risks, and I'd ask citizens to show understanding for measures such as the closing of streets or bans on public gatherings during the visit, in places where the motorcade is due to pass," the minister told press reporters in Kula.
Dacic and the Serbian Defense Minister Dragan Sutanovac, in preparations for Biden's arrival, attended an anti-terrorist exercise at the police held jointly by Serbian army and police, which also included a simulation exercise of an attack.
He said that national police and security services have been preparing for the Vice-President's visit for a long time now.
"I get the impression that members of the public don't understand adequately, or haven't had it sufficiently explained to them, what security measures mean when it comes to certain events or individuals," said Dacic.