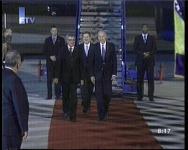 US Vice President Joseph Biden landed at Sarajevo's airport on Tuesday early morning, officially kicking off his three-day tour of the Balkans.
Aboard the Vice President's Boeing 757, code-named "Air Force 2," Joe Biden landed shortly before 5:00 am local time, traveling directly from Greensborough, North Carolina, where he held a speech to the US Army troops there.
At the airport, Joseph Biden was welcomed by the US ambassador to Bosnia Charles English, as well as Bosnian Foreign Minister Sven Alkalaj and Sarajevo mayor Alija Behmen
After Bosnia and Herzegovina, Biden will travel to Belgrade and then on to Pristina. During this trip, Biden is expected to spend a day in each country meeting top local and international officials. He will also address each country's parliament.
According to western diplomats, Biden's visit is accompanied with tight security checks which surpass measures taken during the 1996 visit of the US President Bill Clinton to Bosnia. Local and US security agents combed the streets and buildings which Biden was to visit days ahead.
Biden will be accompanied in Bosnia by the EU Foreign Policy chief Javier Solana – a sign that the US and EU are determined to present a united stance, analysts say.
Biden's visit comes after the former US administration reduced its political and military presence in the region, a decision that some observers say has helped contribute to the country's growing political deadlock.
Local and international experts and analysts say that the fact that the Balkans has been selected as the second official foreign visit of the US Vice President, reflects growing understanding and readiness of the new US administration to reengage in the region.
"The fact that Bosnia and Herzegovina is his first stop is pretty telling," US analyst from the Democratization Policy Council think-tank, Kurt Bassuener, told Balkan Insight.
Bassuener and other Balkan analysts say that Biden's visit has several concrete goals, including to gain a better understanding of the situation on the ground, calm down recent tensions, and decide on whether to appoint a US envoy for the Balkans.
Biden's visit has been met with high expectations and seemingly irreconcilable demands across the region.
In Bosnia, Bosniak (Bosnian Muslim) leaders expect the US to push for more radical constitutional reform which would strenghten state level institutions in the country. This is strongly opposed by Bosnian Serb leaders, who want to see as little of a centralised state as possible.
Bosnian Croats hope for solutions that would prevent them from being further margnalised and outvoted.
During Biden's visit, Bosnian Serb and Croat hard-line war veterans associations plan to hold peaceful protests in Serb and Croat-dominated areas, against alleged discrimination of non-Bosniaks.
Expectations for the visit are also high in Kosovo, where politicians hope for futher US support for the country's independence and international recognition.
During Biden's visit to Belgrade, Serbia hopes to improve its relations with the US and get credit for political and economic reforms it has carried out over the past few years.