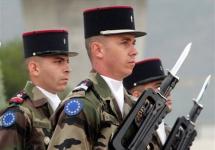 EU foreign ministers discussed plans for the final closure of the EU's peacekeeping mission, EUFOR, in Bosnia, citing a stable security situation in the country.
At a regular monthly meeting in Brussels on Monday foreign ministers agreed to move ahead with plans for EUFOR's transition to "a non-executive capacity-building and training operation".
EU's General Affairs and External Relations Council welcomed progress that has been made to transform EUFOR so far, and approved for planning purposes a Concept and the Provisional Statement of Requirements, which outlines the possible transformation.
Ministers warned that the timing of the actual transformation would depend upon political developments on the ground as well as the future role of the EU Special Representative to the country, but said planning would continue "so that a decision on the future of the operation could be taken once the necessary conditions had been met."
Western diplomat sources told Balkan Insight that these discussions came after a team of EU military specialists visited Bosnia some two months ago to assess and proposed basic plan for the new training mission.
The discussions have been strongly criticised in Bosnia, as many analysts and diplomats fear that an international military presence is still necessary as a deterrent given the severe political tensions and animosities among local leaders.
Furthermore, they fear that early withdrawal of EUFOR would undermine Bosnia's High Representative's already battered authority.
They point out that if the EU adopts these plans, EUFOR will lose its so-called Chapter VII mandate which gives it the right to use military force and legal grounds to intervene in case of any violence.
The discussions, which are still in the form of recommendations and are not binding, came just as US Vice President Joseph Biden and EU Foreign Policy chief Javier Solana were preparing to visit Sarajevo on Tuesday.
The visit itself is supposed to be a sign of EU and US readiness for a stronger engagement in Bosnia and the rest of the region.