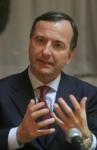 Italian Minister of Foreign Affairs, Franco Frattini, says abolishing the EU visa regime for Serbian citizens is possible by the end of 2009.
In an interview with the daily 'Blic' newspaper he said: "The time has come to do everything to bring down the borders that separate the Balkan countries from the EU. That's why I believe that abolishing the visa regime for Serbian citizens is feasible by the end of this year," Frattini said, adding that "decisive progress is within touching distance". 
The minister underscored that Italy favours EU enlargement into the Western Balkans, which Frattini said, through history and tradition, are a key part of "Greater Europe". He assured Serbia that it has a reliable and resolute partner in Italy.