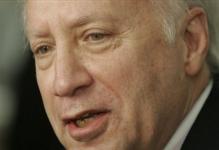 The UN mediator in the Athens-Skopje name row, Matthew Nimetz will probably visit both countries by June-end in a renewed effort to find a solution to the on-going spat, Greek media say.
Nimetz has not confirmed the reports.
Wednesday's edition of Greek daily "To Vima" says that Nimetz will only try to assess both countries' readiness to undertake a fresh initiative to find a compromise, the Macedonian MIA news agency reported.
The daily refers to recent statements made by high-ranking United States and European officials who urged for a quick solution that would unblock Macedonia's NATO, and warned that the talks should focus solely on the disputed name.
The talks have been practically frozen since last year due to the elections in both countries. Macedonia's president Georgi Ivanov recently stated he expects the talks to resume after this June's European Parliament election in Greece ends.
Last year Greece blocked Macedonia's NATO accession over the long running dispute.
The final set of suggestions offered by Nimetz, media reported, contained several possibilities for a new name for Macedonia with the geographical prefix "Northern" to clearly distinguish the country from the Greek province carrying the same name.
While both states argue they are willing for compromise, they show no sign of reaching one. Greece insists that a solution must be applied for all international usage, while Macedonia argues that since only Greece has a problem, a new name should be used only in bilateral correspondence.