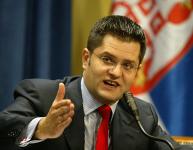 Serbian Foreign Minister Vuk Jeremic said a resolution proposed by Saudi Arabia calling on Islamic countries to recognise Kosovo had not been accepted at the meeting of the Organization of Islamic Conference in Damascus.
"Syria, Egypt, Azerbaijan, Algeria and some other countries submitted amendments to that proposal so that the adopted resolution by Saudi Arabia does not call for recognition of Kosovo independence and does not mention it at all. That is another important diplomatic victory." Jeremic said, according to Blic daily.
Jeremic, however, said he expected the pressure on Muslim and other countries to recognize Kosovo to continue, and Serbia would continue to exert efforts to prevent that recognition.
Albania strongly supported the proposal made by Saudi Arabia. As it became clear that the resolution would not be accepted, the Saudi Arabia delegation abandoned the session, as the Syrian authorities had rejected accreditation to the Kosovo delegation who wanted to attend the meeting.
Nine of the 57 countries belonging to the Organization of the Islamic Conference, OIC, have recognised Kosovo.
Jeremic said the conference had started with Saudi Arabia's "aggressive address which asked the 57 OIC members to immediately recognize Kosovo in the name of support to their Muslim brothers.
"We expected as much, and for this reason we were very active diplomatically," continued Jeremic. On Saturday he told media that he had spent the last 48 hours "constantly on the phone with those OIC countries that support Serbia's position.
"It's hard to predict the outcome of the vote, but we hope for the best," underlined Jeremic, explaining that Serbia is not a member, and Serbia's delegation were not in Damascus for the OIC gathering.
However, Serbia wishes to become an observer in this organization, explained Jeremic, and this is another item that the conference will look at and make a decision on.
"But for now, from Belgrade, from afar and via our friends, we are doing everything we can to block the Saudi resolution," Jeremic concluded.