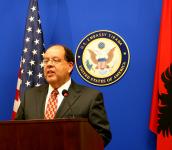 The US Ambassador in Tirana, John L Withers, on Monday appealed to Albanian citizens from the town of Berat to apply for new identity cards so they can vote in the June 28 parliamentary elections. The appeal follows a similar call made last week by the head of the OSCE mission, Robert Bosch.
Diplomatic sources in Tirana have told Balkan Insight that there is growing concern that not all citizens who lack passports will be issued with new identity cards before the June elections. About 760,000 of Albania's three million citizens don't hold a passport and the only way they can cast a ballot on June 28 will be through the new identity documents. 
With Albania newly-promoted to NATO membership and having filed for EU candidate status, the ballot is seen as a crucial test of the county's democratic credentials. While the opposition says the process of issuing new IDs ahead of the election is running out of time, the government says everything is going according to plan and the opposition accusations are political hysteria.
"The Albanian government has failed to supply citizens with the new identity documents," said Socialist MP Kastriot Islami at a press conference during the weekend. According to the Ministry of Interior, out of the 760,000 citizens who lack passports, 353,000 have already applied for the new identity cards.