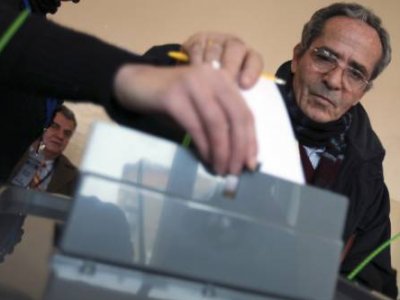 Veteran Moldovan President Vladimir Voronin failed on Wednesday to secure parliament's election of a compliant ally as his successor who would have allowed him to continue running the country behind the scenes.
Voronin's plan to win parliamentary support for fellow Communist Zinaida Greceanii came unstuck when opposition parties torpedoed the ballott with a boycott that denied her, by just one vote, the required tally of votes for election.
The outcome in the former Soviet republic of 4.3 million people — Europe's poorest country — should trigger a new general election, though Voronin took no immediate steps to dissolve the chamber.
Greceanii won 60 votes in a tense second ballot for president in parliament, one short of the 61 needed to win office in Moldova which is wedged between Ukraine and European Union member Romania.
The issue of Moldova's political direction has become especially sensitive since a parliamentary election in April sparked violent protests. Young demonstrators, angry at the prospect of continued rule by the communist party, ransacked public buildings.
Though Moldova — unlike other former Soviet countries — is a parliamentary republic, Voronin built up a strong power base over the past eight years and exerted a strong grip on state affairs.
Barred by the constitution from seeking a third straight term, he had hoped to continue piloting the country from the position of parliamentary speaker via the compliant Greceanii.
He must now dissolve parliament and call a new election.
"We take note that there are now circumstances for dissolving parliament," Voronin told deputies after the result was announced.
Within an hour, Voronin read out a decree proposing that Greceanii be reinstated as premier and that deputies examine her candidacy and a government programme on June 10.
ELECTION CAMPAIGN
The constitution and Moldovan legislation leave some leeway for the president as there is no specific provision saying when he must dissolve the chamber. Analysts say the campaign will likely take place either in early summer or in September.
"Moldova is in deadlock. We have a political crisis, combined with an economic crisis and now constitutional deadlock," said Igor Botan of the Adept Association think tank.
"I don't think Voronin will be in any hurry. First the government must be confirmed and parliament must adopt a series of laws to tackle the economic crisis. The campaign would appear to be very tough and this is, naturally, a danger for Moldova."
After the unrest in April, Voronin accused his opponents of launching a coup d'etat, and accused Romania, which has strong cultural and linguistic links with Moldova, of fomenting the violence.
The opposition said the April election was rigged and vowed to settle for nothing less than a new poll.
Voronin has overseen economic stability but the world crisis has hit Moldova hard, reducing by one third remittances sent home by hundreds of thousands of its nationals working abroad.
Voronin first allied himself with Moscow but then accused it of betting separatists running Moldova's Russian-speaking Transdniestria region. He turned to Romania, but then denounced what he said was a campaign to swallow up Moldova.