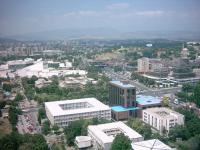 Macedonia's top political parties – the ruling centre-right VMRO DPMNE and the opposition Social-Democrats – have condemned Tuesday's incident in Athens, Greece in which ultra-nationalists stormed the promotion of a Greek-Macedonian dictionary.
The parties urged Athens and Brussels to condemn the incident and find the perpetrators. Macedonian government spokesman Sefket Duraku told Balkan Insight that it would release an official response to the incident later today.
"The conduct of some groups in Greece represents a big problem for the Greek state," ruling party legislator Oliver Sambevski told local media Wednesday. He condemned the incident and said his party would plea the cause before the Council of Europe.
The opposition said it would protest in the Organization for Security and Cooperation in Europe, OSCE, which at the moment is presided over by Greece.
"As head of our [Macedonian] delegation to the OSCE, I will submit my strongest protest there. It is particularly strange that this happens in a year when Greece is head of the OSCE. These kind of events should be prevented, and if not, than at least they should be sanctioned," Social Democrat legislator Andrej Petrov told local media Wednesday.
So far there has been no official reaction from Athens.
Yesterday, local Kanal 5 TV aired footage of the incident presumably shot by the organizers of the event showing men wearing black T-shirts, reportedly with signs of the Greek ultra nationalist organization Golden Dawn, storming the International Press Center in Athens where the conference took place.
The group began destroying the promo material and damaging some of the cameras, verbally attacking the promoters and guests. The promotion was staged by the small Greek Rainbow party, which represents the unrecognized Macedonian minority there.
Greek nationalist movements strongly oppose the release of this 15,000-word dictionary, arguing that the Macedonian language does not exist.