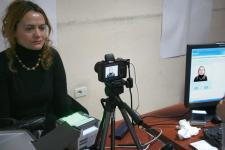 USAID, says that the process of distributing new identity documents to voters ahead of June 28 elections is problematic.
About 760,000 of Albania's three million citizens do not have passports, and will be allowed to cast ballots in the upcoming elections only upon obtaining a new identity card. 
According to EMA, the process, which started on January 12, has been marred by confusion due to government mishandling of the legal framework for the procedure. The report notes that the process lacks a well-placed public information campaign, which should have tackled the changes in the legal framework.
The report states that roughly 90 per cent of the people interviewed did not have enough information regarding reimbursement programs for socially vulnerable groups.
The monitoring report looked at the situation of distributing new identity cards in the capital Tirana and the cities of Durres and Shkodra.
With Albania newly promoted to NATO membership status and having filed for EU candidate status, the ballot is seen as a crucial test of the county's democratic credentials.
While the opposition says the process of issuing new identity cards ahead of the election is running out of time, the government says everything is going according to plan, describing opposition accusations as political hysteria.
According to the Interior Ministry, out of a voter list of nearly 3.1 million, 1.2 million citizens have already applied for the new identity documents, while 696,311 had already been handed new IDs by Wednesday.