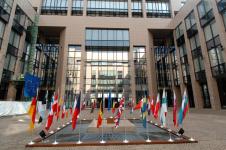 European Commission Vice President Jacques Barrot will unveil a report today in Luxembourg on the on the status of Western Balkan countries' readiness for EU visa liberalisation at a meeting of EU justice and interior ministers.
An official from the current Czech EU presidency told media that though the report will presented, EU ministers are not scheduled to debate the report, though some exchange of opinions might take place. Barrot is tasked with providing the EU ministers with the explanations of the experts' findings. 
Barrot's spokesperson, Michele Cercone, told Beta news agency that the EC report had been delivered to the EU member-state governments on May 18, but that the respective ministers required more time to study it in depth. Some working groups, including EU ambassadors, will study the hundred-page report and advise the justice and interior ministers on how to reach an appropriate decision.
Soon after submitting the report to EU member-states, Barrot said he would propose abolishing the visas regime "as soon as possible… for citizens of those countries of the Western Balkans that have met the criteria set forth in the program of measures – the road map."
A general declaration is expected to be adopted on the visa liberalisation scheme for the Western Balkans at a meeting of EU foreign ministers, which is scheduled for mid-June. This extra step could delay the process until July.
The commission's proposal, which after the June meeting will include the remarks made by EU member states, will be shared with Western Balkan governments most likely in July, with their final decision expected in the autumn.