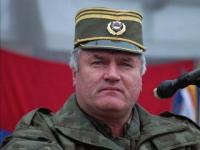 Belgrade's Blic daily newspaper reveals the personal insights and damning details of the diary of Bosnian Serb wartime general Ratko Mladic, which has been handed over to the Hague Tribunal.
Blic daily was apprised of some of the content of the diary by unnamed sources and published those insights on Thursday.
The diary was confiscated during a search of the flat of Mladic's wife Bosiljka on December 4 last year at the order of the Council for War Crimes of the District Court in Belgrade.
The diary was reportedly handed over to the Hague-based International Criminal Tribunal for the former Yugoslavia in early March this year.
According to Blic, in the diary, Mladic describes his meetings with former Serbian leader Slobodan Milosevic, former state security service head Jovica Stanisic (also indicted by the ICTY) and other notable figures.
Hague prosecutors had requested that the diary be listed as evidence against Stanisic and his former deputy, Franko Simatovic.
Mladic is also said to mention former US president Bill Clinton in the diary, and to criticize Russia's role in the 1992-1995 war, as well as to advise Serbian officials to bribe US senators.
Mladic is the court's most-wanted war crimes fugitive, indicted for the crime of genocide committed in ten Bosnian municipalities, as well as crimes against humanity and violations of the laws and customs of war during the 1992-1995 war in Bosnia.
In related news, today, Serge Brammertz, chief ICTY prosecutor, is scheduled to deliver his assessment of Serbia's cooperation with the court to the UN Security Council in New York.
Serbia has been hoping for a more positive assessment by the ICTY, and was expecting today's report to be the most positive yet, though falling short of labeling Serbia's war crimes cooperation as "full."
It is unclear what role the handing over of the diaries will play in the Tribunal's assessment before the UNSC.
Beta news agency got its hands on the report yesterday in which Brammertz is insistent that the arrests of Mladic and fugitive Goran Hadzic remain "the most critical area" in the case of Serbia's cooperation with the Tribunal.
Goran Hadzic is wanted by the ICTY for crimes committed in Croatia, crimes against humanity and violations of the laws and customs of war.
The ICTY prosecution "believes both fugitives are within the reach of the Serbian authorities."
Regarding other areas of cooperation, the report said: "The Serbian authorities have in an adequate and timely manner responded to certain demands for cooperation," in both securing the appearances and safety of witnesses before the Tribunal.