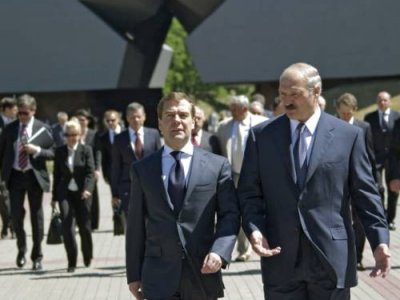 Russia has made a $500 million loan to Belarus contingent on its recognition of two separatist Georgian regions as independent states, President Alexander Lukashenko was quoted as saying on Friday.
But Lukashenko, interviewed by Russian media, said Belarus's support was not for sale.
Relations between the two former Soviet republics and traditional allies have deteriorated in recent months.
Russian officials last week said they would not provide the loan on grounds that Belarus could be insolvent by the end of the year.
Moscow is alarmed by Belarus's rapprochement with Europe after years of isolation and accusations of human rights abuses.
"It has come to this — they came and said: if there's South Ossetia and Abkhazia, there will also be $500 million," Lukashenko said in the interview, reprinted by the official BelTA news agency.
"You know, we don't want to sell issues and positions … We will decide on this issue by ourselves."
Russian forces expelled the Georgian army after it tried to retake the rebel region of South Ossetia last August.
Russia subsequently recognised both South Ossetia and a second separatist region, Abkhazia, as independent states, though so far only Nicaragua has extended similar recognition.
Moscow has been unofficially putting pressure on Belarus, its longstanding ally, to recognise the two regions. But Lukashenko has resisted the pressure, saying this is a matter for the Belarussian parliament to decide.
"Maybe we'll recognise, maybe we won't recognise. Today, tomorrow, the day after. In comparison to what is happening around Belarus, this is not the most important issue. But we understand that yes, for Russia, recognition would be useful."
The European Union has made it clear to Lukashenko that recognition of the regions would jeopardise the improvements Belarus has made in its ties with the 27-member bloc in the past year.
The West had long accused Lukashenko, in power since 1994, of jailing opponents, muzzling the media and rigging his re-election to a third term in 2006.
But he has made steps towards the EU after a row over gas supplies with Russia in 2007. Last August, authorities released the last of what the West called political prisoners and allowed the sale of independent newspapers.
The EU suspended a travel ban on Lukashenko, who travelled to Italy in April and met Pope Benedict, his first visit to Western Europe in years.