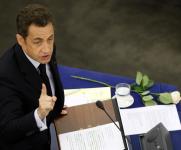 France will help Kosovo on its path to European Union membership, according to statements issued by President Sarkozy's entourage.
Unnamed sources at the Elysée Palace, the French president's Parisian residence, revealed that Nicolas Sarkozy had told Kosovo Prime Minister Hashim Thaci, in Paris on an official visit, that the country's independence was "irreversible".
He had made similar comments to Serbian President Boris Tadic in May.
Kosovo declared independence in February 2008 and has since been recognised by 60 countries, despite protests from Serbia and Russia.
According to Reuters, an official at the Elysée said Sarkozy had told Thaci: "The two countries[Kosovo and Serbia] need to find a way to work together and progressively overcome the problems of the past, and here too France can be the bridge between Kosovo and Serbia to find a modus vivendi."
Thaci is reported to have told the French president that it was Kosovo's strategy to have good relations with all its neighbours, including Serbia. He also called for more investment from French companies.
Sarkozy pledged to support Kosovo's path towards membership of the European Union, although he underlined that his would take time and require a great deal of work