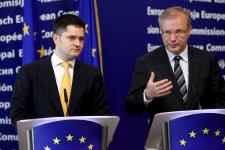 A concluding meeting between Serbian officials and the European Commission will take place today in Brussels before any decision can be made on abolishing the visa regime for Serbian citizens traveling to EU countries.
Officials will study the EC report on Serbia to determine whether the country has met the requirements for visa liberalisation, otherwise known as the "road map", which was finalized in May.
Today, the EC is expected to agree on a draft decision for the visa liberalisation process, and finalization would be based on the findings of today's proceedings.
The Serbian delegation in Brussels – including officials from the Interior and Justice Ministries and the European Integration Office – have been quiet today, and no official statements have been made as to their expectations.
At a press conference yesterday, Serbian Foreign Minister Vuk Jeremic and EU Enlargement Commissioner Olli Rehn stated that 2009 would be the ideal year for the abolition of visa requirements for all countries in the Western Balkans who met the road map requirements.
Rehn said that only a few technical matters remained to be discussed, but he was confident that they would try to resolve the visa regime before the end of the summer session in Brussels on August 1.
If the process goes as planned, Serbia should accede to the Schengen "white list" and Serbian citizens should be allowed to travel freely around the EU without visas or restrictions in 2010.