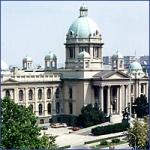 Serbian President Boris Tadic on Friday was presented with credentials from several newly appointed ambassadors to Serbia for the first time.
He received the ambassadors in gathering from Egypt, Angola, Italy and Macedonia: Aly Galal Bassiouny, Toko Diakenga Serao, Armando Varricchio and Ljubisha Georgievski respectively.
In a statement released by the President's office in Belgrade on Sunday, Tadic is reported to have welcomed the diplomats warmly. He wished the new Ambassadors to Serbia well and hoped for joint successes.
Tadic underlined that the main goal on their diplomatic agendas should be to promote relations between their countries and the Republic of Serbia and to move toward better integration, cooperation, and democracy.