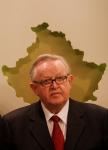 Kosovo's independence is irreversible according to Martti Ahtisaari, Nobel Peace Prize winner and former UN Envoy to Kosovo. He added that international recognitions of Kosovo's statehood would cement the county's status.
Speaking at a special session of the Kosovo Assembly to celebrate the first anniversary of Kosovo's constitution, Ahtisaari said that Kosovo is progressing down the road to becoming a democratic, multicultural and independent state.
Ahtisaari cited diplomatic relations and partnerships with several countries, the establishment of the Constitutional Court and the opening of diplomatic offices in many foreign countries and states among Kosovo's achievements.
He continued by saying Kosovo faced many obstacles in its journey to full independence. He stressed the need for institutions to be transparent and said it was paramount that work continued on Kosovo's international recognition process.
The 2008 Nobel Peace Prize laureate also called on Kosovo's Serbs to become a part of the process "for the sake of their children" and take steps to ensure a brighter future.
"Serbia and Kosovo are neighbours," Ahtisaari said. "Serbia should accept the new reality and Belgrade and Pristina should find possibilities to cooperate."
He called on the EU to help build a consensus that would stabilise Kosovo on its path toward a European future.
Fatmir Sejdiu, Kosovo's President, presented Ahtisaari with the Golden Independence Medal for his work and contribution to Kosovo's independence.