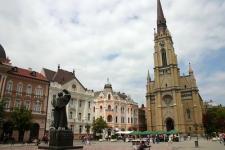 The 16th Summit of Central and East European Heads of State, featuring 14 presidents, is getting under way in Novi Sad today.
Three-day summit will cover issues related to overcoming of 3 E challenges – economy, energy and European integration.
Last year's summitt was held in Ohrid, Macedonia.
Novi Sad was marketed to host this year summit at the initiative of Serbian President Boris Tadic, as the city is a symbol of multi-ethnicity and multi-culturalism. It is an appropriate atmosphere for Tadic who is making efforts to highlight regionalization and decentralization at the summit.
"This is one of the biggest international meetings held in our country in recent decades. It is especially important that it is being held in Vojvodina. We have the opportunity to point out that Serbia is a country that has its place in the European family of nations", Bojan Pajtic, President of Vojvodina executive council and Vojvodina's First Minister told reporters today.
Running until June 21, the summit has organised the highest level of security.
The conference is bringing together the presidents of Austria, Bulgaria, Croatia, Moldova, the Czech Republic, Italy, Macedonia, Montenegro, Poland, Slovakia, Slovenia, and Ukraine, as well as the chairman of the Bosnian presidency.
Tadic is scheduled to hold individual talks with the Macedonian, Croatian and Italian presidents, Gjorgje Ivanov, Stjepan Mesic and Giorgio Napolitano respectively.
Pajtic told media that this summit was the largest summit in Serbia since the Non-Aligned Summit which took place in the former Yugoslavia.