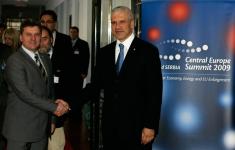 Fourteen presidents are taking part in a summit of Central and South-East European heads of state in Novi Sad to discuss issues integral to the region.
Today's plenary session will tackle the economy, energy and European integration.
Serbian bilateral meetings are taking place as President Boris Tadic met last night with the presidents of Macedonia, Italy, and Croatia.
Serbia's talks with Croatia covered the issue of lifting secret indictments that exist in Croatia against Serbian citizens, Tadic and Croatian President Stjepan Mesic agreed.
Mesic and Tadic agreed that by resolving this issue, many citizens fearing secret indictments and lists would instead return home.
"We want them to return to Croatia as soon as possible. They are our citizens. Croatia can be presented to the world as a mature democracy only when its citizens can come back safely and securely, sort out their status, and return to their houses, towns and villages," Mesic said at a press conference today.
Tadic agreed that cooperation with Croatia was necessary to maintain stability across the Balkans.
"We support each other in attaining EU membership. We are not competing over who will enter the EU first. Whoever enters first—and I believe that will be Croatia—I think they will take other states of the region with them into the process of EU integration," Tadic said to reporters.
Both heads of state are in agreement over the issue of demarcating inter-state borders. "Both sides believe the current inter-state borders should remain as they are as a temporary solution, and that this question must be resolved in the spirit of good-neighborly relations and cooperation," Tadic stressed.
Mesic invited Tadic to visit Zagreb, and Tadic guessed that a trip could happen as early as September.
"That will be an opportunity not only to talk in Zagreb, but in other places in Croatia, and to once more show that relations between the Serbian and Croatian people are improving," he added.
Joining forces with Macedonian President Gjorgje Ivanov, Tadic said they both agreed that the EU should lift the visa regime for their citizens traveling to the EU.