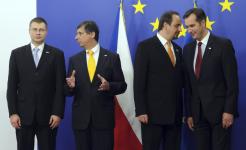 Talks surrounding Serbia's European future were withdrawn at the last minute from this week's EU Summit agenda in Brussels.
Jose Manuel Barroso, European Commission President had no comments or information for journalists about the talks and if Serbia had made it on the agenda.
Other topics at the press conference were addressed such as the Russia-Ukraine gas dispute, Barroso ignoerd the questions about Serbia or the Croatia-Slovenia border dispute.
Dutch President Peter Balkenende was asked why Serbia had not been on the agenda, to which he replied that this was not a question for him, but for his minister.
Dutch Foreign Minister Maxime Verhagen also made no comment to journalists, and left immediately after the session.
As politicians kept a tight lip, there were rumours over whether the Interim Trade Agreement between Serbia and the EU would be unfrozen.
Media reported the rumour of a recommendation to unfreeze the agreement came via the general secretariat of the EU Council of Minister yesterday afternoon.
Yet, Dutch officials are stubbornly maintaining their position that there would no unfreezing of the agreement with Serbia until Ratko Mladic was arrested and extradited to the Hague Tribunal.
Sources close to the summit leaked to media that Holland asked Czech officials, who hold the EU presidency, to omit the subject of Serbia from the general debate, despite EU officials' earlier statements to media that the Interim Agreement should be unfrozen in a sign of full support for Serbia's pro-EU government.
Topics for discussion must be introduced by the current head EU state, but heads of state and government of any country at any time may propose or open a topic for discussion.