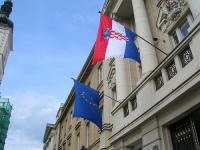 As a row between Slovenia and Croatia heats up, the European Union has cancelled the next round of accession negotiations with Croatia planned for Friday, giving no new date talks.
EU officials said no progress had been made towards brokering a deal between Croatia and its EU-member neighbor Slovenia. Despite substantial efforts to facilitate a solution to the country's border dispute with Slovenia, Croatia's accession talks remain blocked and no new chapters can be formally opened or closed," read an EU statement.
Slovenia and Croatia have been unable to agree on their common land and sea borders since they both seceded from Yugoslavia in 1991. In April, the EU proposed to creation of a tribunal to arbitrate in the dispute, but there has been little, if any, progress.
A clearly frustrated international community has now told Croatia and Slovenia to resolve the issue on their own. Swedish officials, who are taking over the EU Presidency from the Czech Republic, said they do not plan to get involved in the ongoing border dispute.
Croatia hopes to become the EU's 28th member by 2011, but that timetable might now be extended. Slovenia, a EU member since 2004, partially blocked Croatia's previous round of accession negotiations with the EU in December. On Tuesday, Slovenia blocked the closing of another chapter, on statistics, in Croatia's EU accession negotiations, leaving Zagreb with a total of 13 blocked chapters.
The statistics chapter is particularly sensitive as it contains maps sent to Brussels as party of Croatia's accession documents, with the country's borders pre-drawn against Slovenia's wishes.