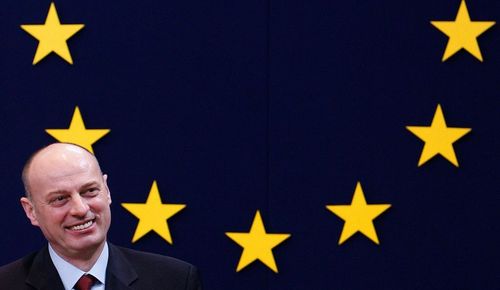 Serbia, citing a 1960 bilateral agreement, has filed a formal request to Bulgaria for the extradition of Agim Ceku, the former Kosovo prime minister arrested at the Macedonian – Bulgarian border because of an Interpol warrant issued at the request of Belgrade that wants him on war crimes charges.
In the hours after Ceku's arrest on June 24 2009, Belgrade summoned Bulgarian ambassador Georgi Dimitrov and informed him of the extradition request.
Ceku is being held under 72-hour arrest by Bulgaria while the matter is preferred to the prosecuting magistracy and a court for a decision on whether to proceed with extradition.
Serbian media said on June 25 that the country's justice ministry had filed a formal extradition application to Bulgaria.
Serbia's B92 quoted Serbian justice minister Snezana Malovic as saying that she expected a positive reply soon from Bulgaria to the extradition application.
The Serbian justice ministry wants Ceku to stand trial for command responsibility for genocide and the murders of 669 Serbs and 18 other non-Albanians in Kosovo in 1999, Malovic said.
Kosovo government spokesperson Memli Krasniqi said that Pristina authorities were holding direct contact with the Bulgarian Government and expected Ceku's release soon, Serbian news agency Tanjug said. Krasniqi said that the indictments against Ceku were politically-based.
"We are authorised to submit a request for detention of up to 40 days on the basis of the Serbian authorities' intention to ask for Ceku's extradition. However, it is the court that will decide whether he will be detained up to 40 days, or a lighter decision," the head of District Prosecutor's Office in the southwestern municipality of Kyustendil, Kamen Peshev, told Bulgarian National Television (BNT).
Peshev said that Serbia's documents requesting extradition should be received through diplomatic and judicial channels and then the prosecutor's office and court would decide whether the requirements of the European Convention on Extradition, Extradition Act and European Arrest Warrant had been made. The law sets a 40-day deadline for this process to be completed.
Asked by BNT to comment on Serbian media reports that Ceku would not be handed to Serbia because of political pressure, Peshev said that the law would be enforced as it stands.
While Bulgaria's Interior Ministry said that Ceku's arrest on the basis of the Interpol "red warrant" had been lawful, Foreign Minister and Deputy Prime Minister Ivailo Kalfin was quoted by mass-circulation daily Trud as saying that Ceku had been coming to Bulgaria on an official invitation from Solomon Passi, head of Parliament's foreign policy committee.
Passi had meetings scheduled at the Foreign Ministry, Kalfin was quoted as saying.
Serbia's Danas said on June 25 that officials of the United States, the United Kingdom and France were pressing Bulgaria to release Ceku.
Danas said that it was noteworthy that Ceku had crossed Macedonia's borders without being arrested by the Macedonian police.
The warrant has been put into effect previously. Ceku was arrested in October at Ljubljana Airport and in February 2004 at Budapest Airport. He was released on both occasions. In May 2009, the warrant led to Ceku being deported from Colombia.
Kosovo, which unilaterally declared independence from Serbia in February 2008, does not regard Serbia as having jurisdiction over Kosovo citizens.