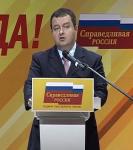 Speaking in the Russian capital yesterday, Serbian Interior Minister Ivica Dacic discussed EU integration, vowing that his country would not sacrifice Kosovo for membership in the European club.
"I'm convinced Serbia will enter the EU, as our society is founded on a European civilization. EU integration would mean a better and more stable political and financial situation for the Western Balkans," Dacic told local media.
"For this reason, Serbia will never sacrifice Kosovo, the cradle of our Orthodoxy, the home to monuments of our history. No-one will ever be able to divide Kosovo from Serbia permanently."
The minister was attending a congress of the Just Russia party. In Moscow, he also took the opportunity to thank Russian President Dmitry Medvedev and Prime Minister Vladimir Putin for their continued support.
"Russia has always pursued a firm, principled policy, and has always supported our country's territorial integrity. Many thanks to you," said Dacic.
Yesterday, in an interview with the Belgrade weekly Vreme, Serbian Foreign Minister Vuk Jeremic said that he was convinced that Serbia could join the EU without having to address or recognise the independence of Kosovo, which was unilaterally declared in February last year.
Jeremic was quoted as saying that the question of Kosovo's of final status should be resolved before Serbia's entrance into the EU, and that a solution "acceptable to all" would be made by the International Court of Justice, ICJ, which is to rule on the legality of the independence declaration.
"There is no way that Serbia will recognize Kosovo under any conditions. On the other hand, Serbia will become an EU member-state, as will all the other countries of the Western Balkans. I am not saying that it will be easy to achieve this goal, but I believe that we will succeed," Jeremic said.
"I expect there to be a solution for Kosovo's future status after the International Court of Justice gives its opinion. And, in order for the solution to be acceptable for Serbia, the Albanian citizens of Kosovo need to say that they were wrong regarding the issue of independence and that they accept Serbia as their country," he said.
He said he expected the ICJ to find Kosovo's declaration illegal and a violation of international law, predicting, "in this case, Pristina will find itself in a 'zero-gravity situation', because there will be no new recognitions."