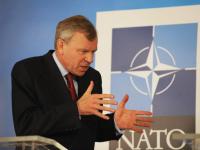 The outgoing NATO Secretary General, Jaap de Hoop Scheffer, on Thursday urged Macedonia to show more flexibility in solving its spat with Greece, so enabling it to join NATO.
Answering questions during the Euro-Atlantic Partnership Council's Security Forum in Astana, Kazakhstan, Scheffer said he had done everything in his power to help Macedonia become part of the Alliance.
"I would like to see your nation in NATO; I have never concealed my own ambition in that. I have been to Skopje many times, but it also means, honestly, that I have to see more flexibility than I have seen till now", Scheffer said.
Having invested a good deal in relations with Skopje, he said he was sure his successor, Danish Prime Minister Anders Fogh Rasmussen, would do the same.
Sheffer was head of the Alliance last year when Greece blocked Macedonia's invitation to join, citing the unresolved nature of the disagreement on the use of the name "Macedonia".
Greece, a longstanding NATO member, argues that use of the term implies a territorial claim to the northern Greek northern province of the same name.
UN-sponsored talks on the issue have intensified since then but without a breakthrough. The UN mediator, Matthew Nimetz, resumed talks this Monday in Geneva. He is set to visit the region in early July. According to media reports, his latest ideas to solve the row involve variations on the name "Northern Macedonia".