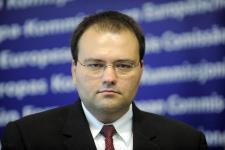 The European Commission urged Macedonia to appoint a new official in charge of EU affairs as soon as possible.
The appeal came after Macedonia's Deputy Prime Minister, Ivica Bocevski, who was in charge of EU integrations, resigned on Tuesday.
"We are awaiting additional information to find out who will be responsible for the reform process regarding the European Union", Krizstina Nagy, spokesperson of enlargement commissioner Olli Rehn said on Wednesday. 
"It is important that we remember that we don't have time to lose if country wishes to meet the conditions that were defined by European Commission in 2008," Nagy added.
Bocevski quit his post a few months before this autumn's European Commission report on Macedonia, in which the Skopje government hopes to receive a green light to begin EU accession talks.
The country was granted EU candidate status back in 2005. However, citing insufficient progress on reforms, Brussels has delayed recommending a start to accession talks since then.
Bocevski took over the Deputy Prime Minister's office and at the same time took charge of the country's EU aspirations last year. According to Nagy, the European Commission greatly appreciated Bocevski's work and his commitment to European integration.
She declined to comment on his decision to resign."It is not for us to discuss reasons of someone's resignations: What interests us is what comes next", Rehn's spokesperson said.