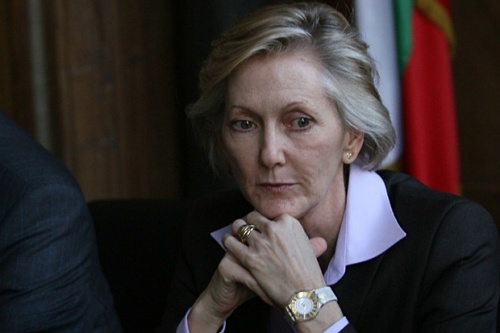 The US Ambassador in Bulgaria, Nancy McEldowney, said that both Bulgarians and friends of Bulgaria expects specific actions to be taken by the next government.
The Ambassador expressed said Saturday in an interview for Darik Radio that the new government must set clear goals and announce them in public.
The government has to say what it wants to achieve in its fight with the organized crime and corruption, and when this is going to happen, the Ambassador added.
"In the US there is no such kind of immunity, which the Galevi brothers made advantage of. The Members of the American Congress have very limited immunity rights, which is acquired after they elected for the Congress, and they are only concerning congressmen legal work in the Congress. These rights do not protect them from criminal investigations, being charged of crimes, and being convicted of them", Ambassador McEldowney said.
In her words, it is difficult to say whether Bulgaria has achieved progress or not in the last year since she is an ambassador.
"There is certain progress, especially in the legislation, and laws that have been passed. However, until this legislation is put into action, it is simple a piece of paper. The main thing here is the specific actions. What people in this country and friends of Bulgaria expects are specific actions which will lead to changes, and will initiate a fight with corruption and organized crime", Ambassador McEldowney said.
"Elections are the bedrock of democracy. They are the foundation upon which the will of the people and the strength of national institutions combine to serve public interests. As Bulgarians prepare for national elections on July 5, the United States joins with them in looking to a transparent and integral process that befits this great country. Strong competition, full participation, and robust procedural clarity will ensure a win for all Bulgarians", Ambassador McEldowney said in a statement last week.