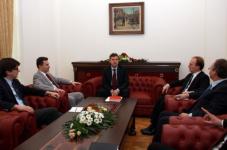 Macedonian top officials late Wednesday held a meeting to discuss the latest talks with the UN "name" row mediator Matthew Nimetz, reiterating that any possible compromise with Greece over Macedonia's name would have to be supported by the public.
The meeting, summoned by Macedonian President Gjorge Ivanov, was attended by Prime Minister Nikola Gruevski, Deputy Prime Minister Abdulaqim Ademi, Foreign Minister Antonio Milososki and the country's name negotiator, Zoran Jolevski.
The leaders "stressed that Macedonia remains committed and constructive in the [UN-sponsored] process, in an effort to find a solution acceptable to both sides, one that would be put a referendum before the citizens of Macedonia", the statement from the President's cabinet says.
Some western observers as well as the country's main opposition, the Social Democrats, have previously warned that a possible referendum on this highly emotional issue could potentially undermine the whole solution-seeking process, as it will be difficult to persuade Macedonians to accept a change in their name that they deeply link with their identity.
The referendum is embedded in Gruevski's ruling centre-right VMRO DPMNE party platform.
Last year, Greek-Macedonian relations soured after Athens blocked Skopje's NATO bid over the 18-year-old row. Athens insists that the name Macedonian implies Skopje's territorial claims over its own northern province with same name, and is demanding it be changed.
Nimetz came out "more optimistic" than before after he met with Macedonian and Greek officials on Tuesday and Wednesday. He said a solution to the row could be reached "in a period of months".
Nimetz said that this time around he offered both sides some "refinements and alterations" of his latest October ideas. Media speculate that his October proposal contained some variations of the name "Northern Macedonia" for international reference.