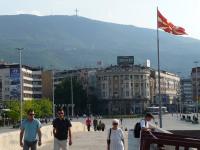 Government donations of state-owned land to the country's two leading religious communities to erect a church and a mosque in Skopje will fail in the Constitutional Court, law experts warn.
The move represents an attempt to indirectly finance religious communities and contradicts the secular character of the state, they say.
"If someone files a dispute against these decisions in the Constitutional Court, I think the protest will be accepted," Osman Kadriu, law professor at Skopje's FON University was quoted as telling the Vreme daily on Thursday.
On Wednesday, the government spokesman Sefik Duraki told the same newspaper that the two main ruling coalition partners, the centre-right VMRO DPMNE and their ethnic Albanian allies, the Democratic Union for Integration, DUI, had already agreed to donate land near Skopje's main square to the Islamic Religious Community, IVZ.
This came two weeks after the government donated a site, just a few metres away, to the country's leading religious community, the Macedonian Orthodox Church, MPC.
The government had initially sought to build the new church, dedicated to St Constantine and St Helena, on its own. After this was disputed before the Constitutional Court by local NGOs, the land was donated to the Church instead.
Local media speculated that this was done to avoid a court case on the part of NGOs claiming the state was showing favours to certain religious communities.
Student movements and other civic organizations have argued that the prime city centre sites should be left for civic use. If religious monuments and shrines are built there, the city's main square will be ruined, they say.
In March, protests by students against the government plans to build a church on the square were violently interrupted by Church supporters, creating additional tensions over the project.