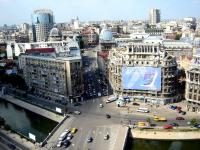 Court sessions across Romania were suspended on Friday morning for three hours, as magistrates protested the Justice Ministry's decision to cut some wage bonuses.
The National Union of Judges on Wednesday requested the resignation of Justice Minister Catalin Predoiu. 
Judiciary staff said their complaints are not exclusively related to low wages but also to an excessive workload, ill-equipped courts and inconsistent legislation, which they say does not protect their rights.
The Justice Minister decided recently to cut so-called "stress bonuses". These are worth up to 50 per cent of magistrates' net wages, which range between 4,000 and 5,000 lei (1,300 euro) a month.
Even without it, judges can still earn bonuses worth up to 85 per cent of their net wages. The average wage in Romania is only around 400 euro a month.
Romania still falling short of European Union standards on judicial reform and fighting corruption, and is now under EU surveillance in these fields. One of the main problems is that the public does not trust the judiciary to apply the law impartially.