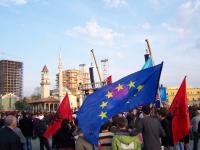 The European Commission's decision not to grant visa-free travel to Albanian citizens has been met with little surprise in Tirana, where the issue was the subject of heated debate during the recent election campaign.
Opposition leader Edi Rama, who is the mayor of Tirana, told reporters that the EU rejection of visa liberalization was a gift from Prime Minister Sali Berisha.
"Today it is a fact that Albania, because of this prime minister and his government, is more isolated than we were before the June 28 ballot," Rama said, referring to the EC vote.
"While the citizens of Macedonia and Montenegro will travel freely to the EU, Albanians will face the same impossible procedures not only to travel to EU countries but also to Macedonia and Montenegro," he added.
In a long-awaited decision, that sparked enthusiastic reactions in some parts of the region and was met by disillusionment in others, the EC adopted a proposal on Wednesday endorsing visa-free travel to the EU for citizens of Macedonia, Montenegro and Serbia.
Bosnia, Macedonia, Montenegro, Serbia and Albania started the process to obtain visa-free travel to Europe in early 2008.
This week, the Commission found that Albania and Bosnia had not fulfilled the necessary criteria and would not be included in the first round of visa liberalization. According to EC sources, both countries will need to wait until mid-2010 for a reappraisal.
Reacting to Rama's accusation, former opposition leader and new government ally Ilir Meta, from the Socialist Movement for Integration, said that Albania's shortcomings on the visa issue were "of a technical nature" and would be overcome in short order by the new government, which is expected to assume office in September.
"I am confident that the new governmental coalition, in a short period, will realize this major goal for Albanians," Meta said.