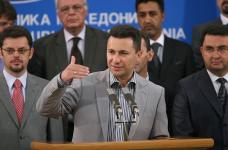 Wednesday's decision by the European Commission to recommend scrapping of EU visas for Macedonian citizens represents a genuine victory for the country and its people, the country's prime minister said.
In his address to the nation, Prime Minister Nikola Gruevski Wednesday afternoon heartily welcomed the lifting of the visa regime for his country along with Serbia and Montenegro. If the procedure in the EU goes well, implementation of visa liberalization will start on January 1, 2010.
"This represents a success for the Republic of Macedonia, a success of the European idea in Macedonia," Gruevski noted.
After Skopje conducted extensive reforms to strengthen border security and fight organized crime, among other efforts, the EC on Wednesday announced that the country had fulfilled all the preconditions for the long-awaited visa-free regime.
"This is a historic moment for EU-Western Balkans relations," the European commissioner Jacques Barrot said at a Wednesday press conference in Brussels.
Gruevski, with his cabinet standing behind him during the national address, pledged to continue efforts to bringing the country closer to the EU.
"We will keep working with dedication in order to receive a positive report and a date for the start of accession negotiations with the EU," Macedonian PM said.
Skopje hopes to get a recommendation for start of its EU accession talks this autumn in the EC's annual progress report for the country.
Since it was granted the status of EU candidate country in 2005, the EC has refused to recommend such a date, citing insufficient reforms.
The authorities recently promised to speed up reforms in the judiciary and in several other areas in order to accomplish the last of the needed requirements.
Skeptics, on the other hand, say there is little time to show real progress in the reforms and their implementation before the autumn report.