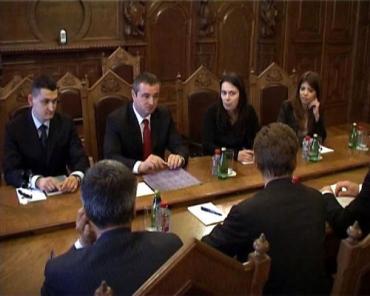 BELGRADE
Srbijagas CEO Dušan Bajatović says that Serbia would agree to negotiations on the Nabucco pipeline project should such an invitation arrive.
"It would not be bad to link up with the Nabucco pipeline as well, even if it isn't passing through Serbia's territory, since gas would be arriving from the Caspian Sea and Central Asia via this pipeline," Bajatović told daily Politika.
He said that "if there is a possibility of receiving gas from different sources, and Serbia and the rest of Europe are in a situation where they can buy at competitive market prices, this in just one more reason to seriously think about these projects."
"However, it is still not certain whether Nabucco will be able to secure sufficient amounts of gas for Europe, because it is common knowledge that there are problems with finding sufficient amounts of gas in order to make this pipeline attractive for investment, especially in a time of crisis," the Srbijagas CEO said.
He said that, for now, supplies were guaranteed only from Azerbaijan, which covered only up to one-third of the projected capacity, while large supplies from Turkmenistan and Iran would have to wait for better economic circumstances.
"Serbia's priorities at this moment in time are South Stream, which, unlike Nabucco, has a reliable source of gas, and the construction of the underground storage facility in Banatski Dvor, which will ensure another route of gas supply and enough fuel in the event of a gas crisis," Bajatović said.
He said that everything was ready for the signing of an agreement on the founding of a joint company for the construction of Banatski Dvor, adding that the government was expected to rubber-stamp the project by Thursday.