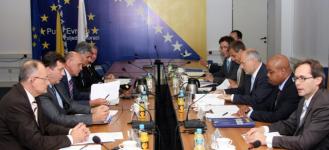 Representatives of Bosnia's top five political parties have agreed to speed up reforms required to win a green light for EU visa liberalisation and close the doors of the international community's Office of the High Representative, OHR.
The atmosphere of the Thursday evening meeting was tense and characterized by back-and-forth accusations, especially between Bosniak (Bosnian Muslim) leader Sulejman Tihic and Bosnian Serb leader Milorad Dodik.
Following the meeting, which was hosted by the international community's High Representative to Bosnia Valentin Inzko in Sarajevo, Tihic told journalists that Dodik had been shifting, changing and reneging on his positions and promises so often that the situation required the presence of an official transcriber to record everything said.
As such, Tihic said he would no longer meet with Dodik without facilitators, such as High Representative Inzko.
Inzko called the meeting in an attempt to kick-start political dialogue on several key issues, including requirements for a visa-free regime with the EU as well as those needed for the closure of the OHR.
However, the meeting only served to underscore the depth of the current political crisis that has engulfed Bosnia. Two opposition leaders, Zlatko Lagumdzija from the Social Democratic Party, SDP, and Mladen Ivanic from the Party of Democratic Progress, PDP, refused to even participate in the meeting.
Haris Silajdzic, leader of the second-strongest Bosniak Party for Bosnia and Herzegovina, SZBH, also avoided the meeting, send his deputy, Safet Halilovic, instead.
In addition to Tihic, Halilovic and Dodik, leaders of the two main Bosnian Croat parties, HDZ and HDZ1990 – Dragan Covic Bozo Ljubic – attended the meeting.
While the five leaders generally agreed to kick-start key reforms, Covic expressed little optimism that implementation would be a reality.
The meeting came only two days after the European Commission presented its recommendations for visa-liberalization for the Western Balkans, which suggests a Schengen visa-free regime for Macedonia, Montenegro and Serbia, but not for Albania, Bosnia and Kosovo. The plan has triggered strong and mixed reactions both in the region and abroad.
"The fact that the European Commission recommended abolition of the visa's for citizens of Montenegro, Serbia and the Former Yugoslav Republic of Macedonia only underscores the urgency of constructive engagement by Bosnia and Herzegovina's political leaders to find solutions for the remaining issues from the visa liberalisation road map," Inzko said in a press statement, stressing that if committed, Bosn