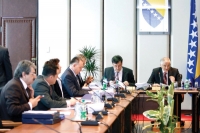 SARAJEVO
Predsjedavajući disciplinskih komisija Agencije za državnu službu BiH po jednom riješenom predmetu dobijat će 300 KM, dok članovi imaju pravo na naknadu od po 200 KM.
Regulisano je ovo odlukom Vijeća ministara BiH, koje je u četvrtak usvojilo set odluka o visini naknada za članstvo u komisijama i upravnim odborima institucija čiji je osnivač državna vlada. Visina mjesečnih naknada iznosi od 535 do 800 KM.
"Predsjedavajući Upravnog odbora Agencije za razvoj visokog obrazovanja i osiguranje kvaliteta dobijat će mjesečnu naknadu od 800 KM. Njegovi zamjenici imaće po 700 KM, a članovi ovog odbora po 600 KM mjesečno", utvrdilo je Vijeće ministara BiH.
Prema usvojenim odlukama, predsjedavajući Državne komisije za integrirano upravljanje granicom BiH dobijat će mjesečnu naknadu od 700 KM, dok članovima pripada po 600 KM. Sekretar ove komisije zarađivat će po 400 KM mjesečno.
Predsjedavajući Državne komisije za integrisano upravljanje granicom je ministar sigurnosti, a članovi su predstavnici državnih ministarstava i agencija zaduženih za zaštitu granice.
"Predsjedavajući Komisije za kupovinu objekta za smještaj ambasade i misije BiH u Briselu dobit će naknadu od 750 KM mjesečno, a članovi po 550 KM. Komisija je radila dva mjeseca, te će njeni članovi ukupno dobiti po 1.100 KM, a predsjedavajući 1.500 KM", navedeno je u odluci Vijeća ministara BiH.
Odlučeno je i da će članovima radne grupe za izradu zakona o sukobu interesa, koje je imenovala državna vlada, biti isplaćivano po 535 KM mjesečno.
Vijeće ministara BiH nedavno je usvojilo izmjene Zakona o plaćama, te set odluka kojima namjerava uštedjeti oko 40 miliona KM godišnje. Smanjenje plaća i naknada bio je uslov Međunarodnog monetarnog fonda za zaključivanje stendbaj aranžmana sa BiH.
Komentar predsjedavajućeg Vijeća ministara BiH i ministra finansija BiH Nikole Špirića, odnosno Dragana Vrankića, jučer nismo uspjeli dobiti.
Lazar Prodanović, zamjenik predsjedavajućeg Komisije za finansije i budžet Predstavničkog doma parlamenta BiH, smatra da članovi
privremnih komisija ne treba da budu plaćeni jer je to posao koji rade tokom svog radnog vremena. "Članstvo u upravnim i nadzornim tijelima treba biti plaćeno, jer ako bi to bilo besplatno, imali bismo problem korupcije. U slučajevima kada su izabrani ili imenovani dužnosnici članovi komisija i primaju naknadu, onda je to klasični sukob interesa", rekao je Prodanović.
Kako je istakao, Komisija za administrativne poslove parlamenta BiH ukinut će naknade za komisije parlamenta.