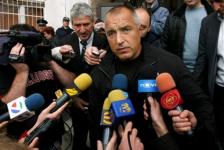 Bulgaria's new government was voted in overwhelmingly by the country's parliament on Monday, with new Prime Minister Boiko Borissov taking the oath of office.  Bulgaria's parliament voted new Prime Minister Boiko Borissov and his cabinet into office on Monday.
The vote confirming Borissov as head of the incoming government was clear cut with 162 in favour, 77 against and one abstention.
Voting in favour of the new government were Borissov's GERB, the hardllne nationalists of Ataka, centre-right Blue Coalition and the Order Law and Justice party.
Outgoing coalition members, the Bulgarian Socialist Party-led Coalition for Bulgaria and Ahmed Dogan's Movement for Rights and Freedoms voted against.
In his address to the plenum, Borissov pledged to work for Bulgaria's financial stability, an improved business environment, fighting corruption, improving the judicial system, modernised infrastructure, and to regain European partners' trust in Bulgaria, The Sofia Echo reports.
Referring to the country's financial straits, Borissov said: "We cannot get out of the crisis without EU money."
BSP head Sergei Stanishev said that his party refused to vote in favour of the incoming government because Coalition for Bulgaria voters had supported a different program from that favoured by GERB.
Following its official swearing in, the new prime minister and his cabinet went to government headquarter in Sofia for the formal transition of power, The Sofia Echo reports.