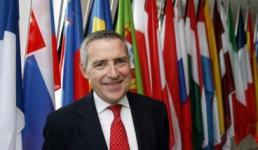 The outgoing head of the European Commission, EC, mission to Serbia, Josep Lloveras, considers that Serbia is on the right path to EU integration but needs to maintain momentum.
"Unfortunately, Serbia has lost a lot of time and cannot allow itself further failures. Thus, the best way to alleviate the effects of the economic crisis is to continue with reforms," daily Vecernje Novosti quoted Lloveras as saying. 
The EC mission head believes the Serbian government will fulfil EU political, economic and institutional conditions by the end of summer, allowing its citizens to enjoy visa-free travel to the bloc from next year. He said political conditions include measures to strengthen democracy and the rule of law, respect for minority rights and the promotion of a market economy. The institutional changes involve the adoption of EU-compliant legislation.
Referring to thawing a stalled trade deal – part of the Stabilization and Association Agreement signed but immediately suspended in April 2008 – Lloveras said this relies on Belgrade's full cooperation with the Hague Tribunal.
Asked when Serbia will join the EU, the diplomat said that this is a million dollar question no one can answer at the moment. "As a European representative, I shouldn't try to answer it but as Serbia's friend I would bet it's going to happen in the next decade," he said.
According to the daily, Lloveras said that Serbia's economic cooperation with Russia is dependant on the country's strategic plans and would not be an issue so long as cooperation was conducted in accordance with arrangements made between Serbia and EU member states.